Construction and Engineering
Frazer has far-ranging experience in the specialized accounting methods for the construction and engineering industries. From tax and accounting compliance and consulting on purchase and sale of real estate, negotiating and tax free exchanges to cost segregation and business valuation, our team of experts can provide you with expert tax, financial, and management advice in any stage of your construction business.
Whether helping you manage operating costs or processes, analyzing company or project financial performance – or knowing how best to work with bonding agencies and banks – the Frazer Construction and Engineering Team is ready to guide you through the day-to-day management of your business.
Beyond pure tax and accounting matters, there are strategic considerations unique to the construction and engineering industries. Our team's experience can add great value to your business by helping you identify your options and opportunities – and then help guide you to achieve the best outcomes.
Services for Construction Contractors and Engineering Companies
Assurance and Accounting:
Fair market value financial statements
Budgeting and cash flow management
QuickBooks and payroll services
Tax Planning and Compliance:
Estate tax and gifting strategies
Federal and state tax compliance
Proactive, up-front planning
Optimizing tax strategies
Research tax credits
Succession and transition planning
Consulting and Business Advisory Services:
Asset purchase consulting
Banking and surety consultations
Business valuation
Cost segregation studies
Entity selection
Lease or buy consulting
Loan packaging and debt restructuring
Tax deferred exchanges
Frazer LLP also shows its commitment to the construction and engineering industry by supporting and participating in industry organizations, including:
If your primary focus is construction or engineering, contact Frazer's Construction and Engineering Team. Frazer LLP: With You. For You.
Contact:
Ryan Zhang, CPA
rzhang@frazerllp.com
714.990.1040
Jeff Jones, CPA – Consultant
jjones@frazerllp.com
714.990.1040

The Frazer 411 on Construction and Engineering is Frazer, LLP's monthly enewsletter, including articles on a variety of topics to help you manage your business. View the archive and subscribe to receive future issues. When you have questions don't hesitate to contact us.
Complimentary Downloads: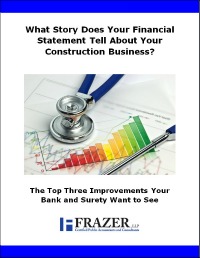 What Story Does Your Financial Statement Tell About Your Construction Business? The Top Three Improvements Your Bank and Surety Want to See
How do you view your company's financial statements? Are they simply the history of your financial performance, only useful for seeing where your company has been? Or, are they valuable to your company's future? Though your company's financial statements present past performance, they are the primary tool your surety and bank use to extend the credit you need to drive your future endeavors. 

What can be done to improve the form and substance of your financial statements to improve your relationship with your bank and surety? Download What Story Does Your Financial Statement Tell About Your Construction Company? and learn about the top three improvements your bank and surety want to see.
Complimentary Webinars: 


Boost Your Bottom Line With Benchmarking
Presented by: Brian Tunnelle, CPA, CCIFP, CGMA, MBA, Partner, Frazer, LLP
Watch the webinar (on demand)
Frazer – Boost Your Bottom Line With Benchmarking Handout
Enhance Your Wealth With Targeted Tax Strategies
Presented by: Lou Rendon, CPA, MBT, Partner, Frazer, LLP
Watch the webinar (on demand)
Frazer-Enhance Your Wealth With Targeted Tax Strategies Handout
Take Advantage of Tax Credits
Presented by: Sonny Grover, alliantgroup
Watch the webinar (on demand)
alliantgroup Handout
Frazer, LLP Handout